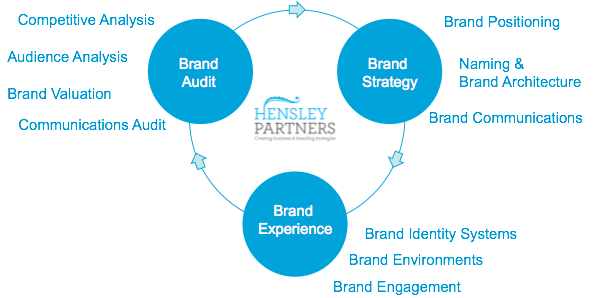 Brand Audit
Audience analysis: researching B2B and B2C audiences: from interviews with B2B decision makers to global quantitative research studies - developing insights into what drives choice.
Communication audit: how your visual identity and messaging distinguishes you
Competitive analysis: evaluating strengths and weaknesses of your product and service propositions versus competitors
Brand valuation: assessing and modelling the financial value of business and product brands
Brand Strategy
Brand positioning: developing a brand platform (including the brand essence, brand promise, brand personality) that will resonate with target audiences
Brand architecture: defining the role and scope of the different brands in the portfolio
Brand communications: developing internal and external messaging and communication plans
Brand Experience
Brand identity system: designing logo and identity systems for all parts of the organisation
Brand environments: designing retail stores and branded office environments
Brand engagement: aligning the whole organisation to deliver the brand promise, ensuring that the brand proposition is consistently and effectively communicated across all touch-points
We would be delighted to discuss any aspect of your branding and business strategy, and advise whether we believe we would be able to add value - or if we believe that you would be better to seek help elsewhere. We can organise an inexpensive initial workshop to explore these issues with you, without commitment to any longer project.
Use the form below or e-mail david@hensleypartners.com to set up a free initial consultation on your needs and whether or not we are the best people to help you.
Or call us: tel: +44 (0)20 7520 9220
We have worked with clients across the globe. Our experience spans sectors as well as continents.
We collaborate with a range of business partners, who bring world-class expertise to meet the specific needs of particular clients.